General Revelation and Special Revelation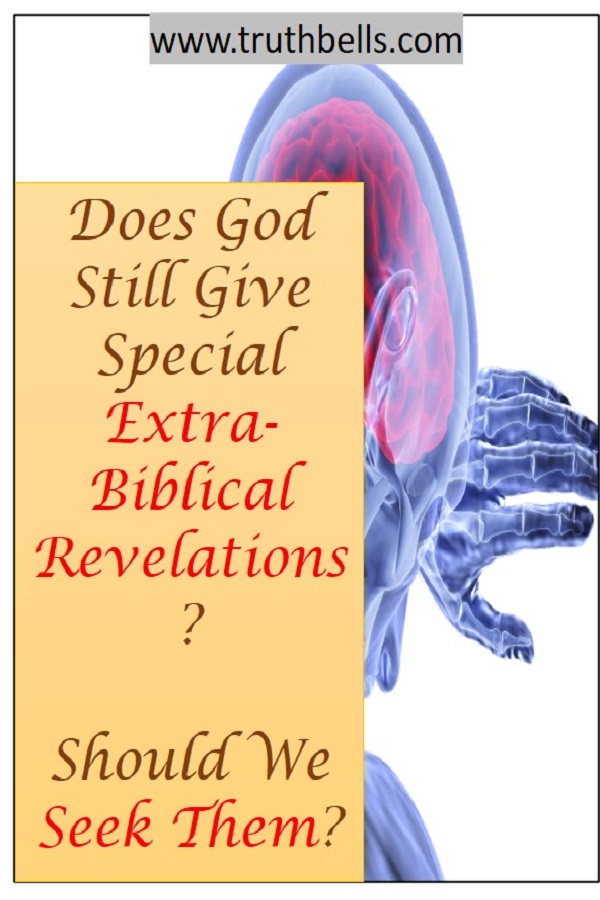 Are special revelations or extra biblical revelations to be sought after by Christians? What does the Bible say about Special Revelation?
The Bible is a big book, written by the saints (those who are washed by the blood of the lamb) of God, inspired by the Holy Spirit. It starts with Genesis, which narrates the beginning of creation and ends with Revelation, which narrates the consummation of all things.
The Old Testament portrays the character of God, His loving kindness to His chosen people of Israel. The Old Testament prophecies and the sacrificial systems were all pointing to the coming Messiah and the establishment of His Kingdom.
General Revelation in the Bible:
When a true believer who has accepted the Free Gift of Salvation, through Faith in Christ, reads the Bible, the Holy Spirit speaks through the Words in the Bible. While non-Christians view it as a history book or a novel, the truth remains the truth. It is the Word of God.
A new believer who is Born of God is like a Child in Spirituality. To grow in God, he or she needs the knowledge and power of God's Word.
We talk to God through Prayer and listen to Him by reading and meditating on His Word. This way, a strong relationship is built with God and the relationship keeps growing, as we seek Him more and more in His Word and good works.
Can God give Special Revelations of Heaven and Visions?
The answer if "Yes, God can and He did it in the past".
Should today's Christians "SEEK" extra-Biblical Visions and Revelations from God?
"God told me that...", "God gave me a special revelation that...", "God spoke to me about so and so country's future when I was praying yesterday...", "God told me that person X should marry person Y", "I visited Heaven yesterday", "God told that a severe famine is going to come to this part of the world", "God told me that you should name your child as..", "I see God standing here..", "I see golden rain..", "I see a lion here" etc. are the words you can often hear in some charismatic churches and TV channels.
Jesus already warned about false prophets and false teachers who will say such things and deceive people, in Mathew 24.
Matthew 24
23 "Then if any man shall say unto you, Lo, here is Christ, or there; believe it not." 
24 "For there shall arise false Christs, and false prophets, and shall shew great signs and wonders; insomuch that, if it were possible, they shall deceive the very elect. "
25 "Behold, I have told you before. "
26 "Wherefore if they shall say unto you, Behold, he is in the desert; go not forth: behold, he is in the secret chambers; believe it not."
Special Revelations were never meant for feeling better than others; God is not in the entertainment business.
Matthew 12
39But he answered and said unto them, An evil and adulterous generation seeketh after a sign; and there shall no sign be given to it, but the sign of the prophet Jonas:
40For as Jonas was three days and three nights in the whale's belly; so shall the Son of man be three days and three nights in the heart of the earth.
41The men of Nineveh shall rise in judgment with this generation, and shall condemn it: because they repented at the preaching of Jonas; and, behold, a greater than Jonas is here.
42The queen of the south shall rise up in the judgment with this generation, and shall condemn it: for she came from the uttermost parts of the earth to hear the wisdom of Solomon; and, behold, a greater than Solomon is here.
In the above passages, Jesus rebukes those who seek a sign to believe Him. Nineveh believed in the word of Jonas and the queen of south believed in the God given wisdom of Solomon. But the religious Pharisees who had the Word of God were seeking signs to believe Jesus.
Signs are sought by those who do not believe or lack faith. We don't need a sign to believe Jesus and to stand in awe of Him. The Holy Spirit in us helps us to know and love God. The sign of Jonas in Mathew 12:39 represent the death and resurrection of Jesus Christ after 3 days. The resurrected Jesus will resurrect us and we will see Him face to face when we get to Heaven.
The Second Coming of Jesus is going to be a glorious event and Christ is coming as a King of Kings. Till His return, we have been given the Holy Spirit and the written Word of God to guide us and lead us. Our communication with God is always open, through Christ and we experience His presence through Prayer and quiet time. This is all sufficient, seeking any other extra-biblical revelation or signs will only drift believers away from God and unbelievers in darkness.
This Post:
General Revelation and Special Revelation
Posts you may be interested in:
How to Live by Faith
How to be Holy
How to grow in God
The Christian Life
What is True Love according to the Bible
Glorify God in all you do
How to Make Disciples for Christ
God in the Workplace
Free Will and God's Sovereignty
Prosperity Gospel Definition and Biblical Guidelines
Modern Day Idols