The Life of Daniel - Bible Study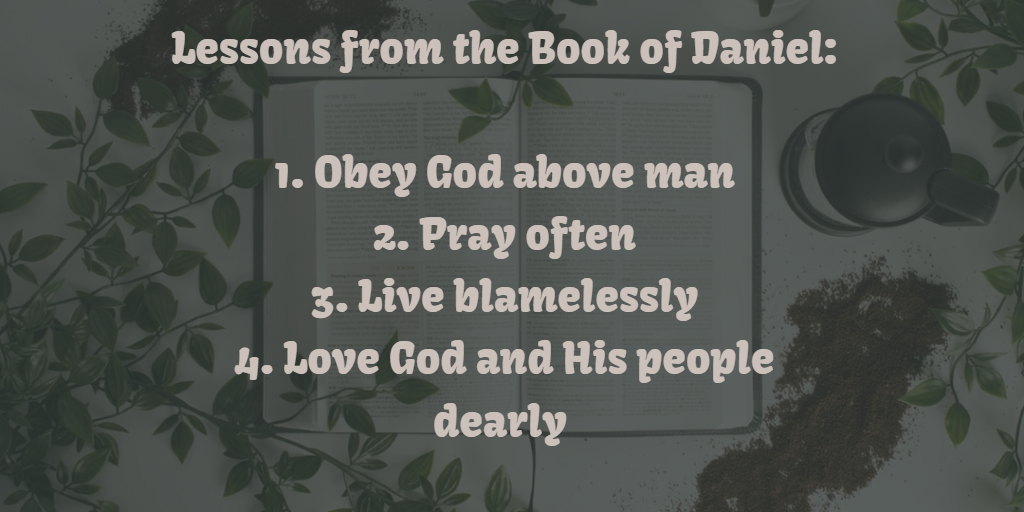 Let us ponder over the Life of Daniel in the Bible and study what his life teaches us.
Here are some remarkable attributes of Daniel that set Him apart for God.
Bible Study on Daniel: No Compromise
Daniel did not compromise his values and behaviors springing out of his faith in God, to keep His career safe or to feel accepted by anybody.
In today's world, we often tend to compromise our Christian values just to feel accepted by the world and to avoid being looked upon as strange or stupid. But, our very calling is to be set apart from the world as people of God.
We are to be different from the world. Light is indeed opposite to darkness.
Daniel refused to defile himself with the king's food, without worrying about what the king would do if He comes to know about this.
Daniel had the King of all Kings by his side and pleasing Him is all that really matters.
Bible Study on Daniel: No Fear of Man ( and of course Lions)
Daniel did not act out of Fear of a human king nor the Lions in the Den. Why? Because He knew who His God is.
He knew that our God is the maker of Heaven and Earth and there is nothing too difficult for Him. He knew that the Lions cannot touch Him, unless God allows it to happen.
Even after hearing that he may be ut to death if He prays, he continues to pray in the same place he used to, in the same way he used to, at the same time he used to.
He did not even close the door. He did not stop looking at Jerusalem. He feared no man.
Bible Study on Daniel: No regard for Earthly Rewards
Daniel firmly acknowledged that it is the Lord who helps Him interpret the dream. He told that He did not want any reward from the King, because He explained the dream for God's glory and not his own benefit.
He had a clear undertanding that God is his provider and sustainer. When he was taken to a pagan country as captive and when He was exalted to a high position in the king's palace, he had same mindset.
He always sought to fulfill God's commandments and please Him. That was the goal, not earthly rewards.
Bible Study on Daniel: Consistent Prayer
Daniel prayed 3 times a day, everyday. Constant communication with God molds our hearts and minds to cling to God at every circumstance.
Prayer is always our Power Source without which we cannot shine as brightly as we should.
When Daniel was praying, Angel of the Lord appeared to him and said, "Thou art highly beloved". What a priviledge!
I pray that this little Bible Study on the Life of Daniel would help you in making better choices and forming Godly habits.
Prayer:
Dear Lord, help me to live an un-compromising, prayerful and obedient life for you, like Daniel in the Bible. Help me not to be afraid of people and evil. Help me to live with an understanding that you are always in control of my life. Amen!
This Post:
Life of Daniel - Bible Study
Other posts you may be interested in:
The Christian Life
How to Make Disciples for Christ?
Walking in Obedience to God's Word
Spiritual Transformation Process
Glorify God in all you do
Creative Ways to Share the Gospel
God in the Workplace
Purpose of Suffering
Christian Priorities
God's Will For Us
God's Purpose For Us
The Lordship of Jesus Christ
Put Your Faith In God, Not Things or Others
Wilderness Experience in the Bible
Legalism in the Church