Put your faith in God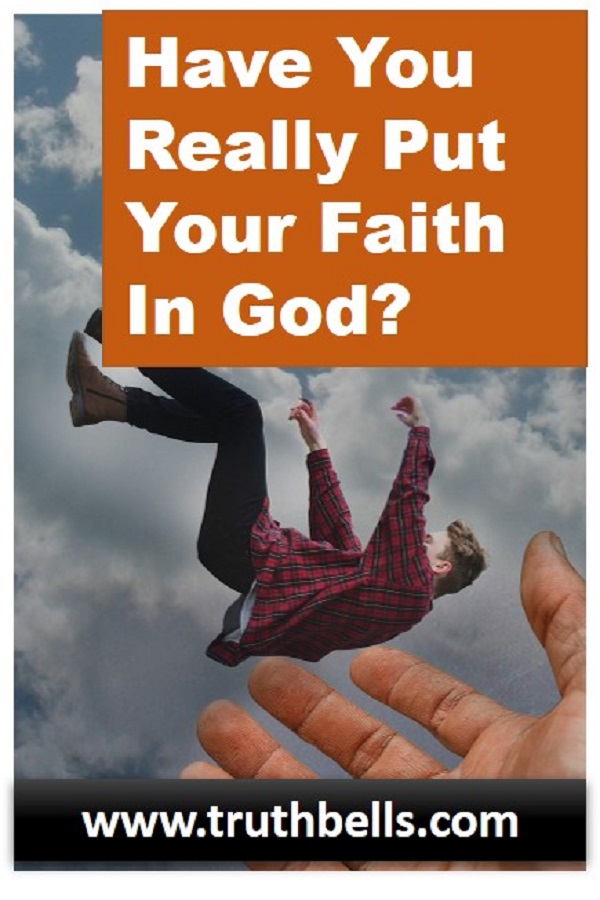 Put your faith in God: True Salvation
Many religious people are deceived by false teachings such as "you must earn your entrance to heaven by your good works", " you will lose your salvation if you fail to keep God's all God's laws", "get your name confirmed in heaven by water baptism" etc.
Paul rebuked such false teachings during his times and he explained God's plan for Salvation clearly in his epistles.
There is only one way to Heaven. No amount of good works or external rituals like water baptism or perseverance can earn you an entrance to heaven.
Only Jesus has the power to save. You cannot and need not help Him. He is the Only Way to Heaven. Salvation is by grace alone, through faith alone, in Christ alone and nothing else can help you gain it.
As Paul instructs, do not frustrate God's grace by believing and teaching that you can earn it on your own.
Ephesians 2:8-For by grace are ye saved through faith; and that not of yourselves: [it is] the gift of God:
Romans 10:17-So then faith [cometh] by hearing, and hearing by the word of God.
Mark 11:22-24-And Jesus answering saith unto them, Have faith in God.
Put your faith in God, not in wishful or positive thinking
Faith in God doesn't equate to positive thinking, which can be defined as expecting something good (according to you) to happen in this life. Don't get me wrong. I'm not against positive thinking. What I'm telling here is that a positive expectation of something cannot be equated to faith in God.
Just like Daniel's 3 friends, we must stand up for God and praise Him even when things don't seem to go as per our expectations.
Faith in God means, knowing that God is good and trusting that He would make everything work for our eternal good, irrespective of the circumstances.
Hebrews 11:6-But without faith [it is] impossible to please [him]: for he that cometh to God must believe that he is, and [that] he is a rewarder of them that diligently seek him.
Hebrews 11:1-Now faith is the substance of things hoped for, the evidence of things not seen.
2 Corinthians 5:7-(For we walk by faith, not by sight:)
Put your faith in God: Trusting in Spirit not flesh
By depending and relying on your own strength, you are putting yourself in the place of God. Let God be the Lord of our lives. We cannot do anything useful, without the help of the Holy Spirit.
Our own flesh will fail us for sure. We are called to trust in God's power which is far greater than ours.
5 Thus saith the LORD; Cursed be the man that trusteth in man, and maketh flesh his arm, and whose heart departeth from the LORD.
6 For he shall be like the heath in the desert, and shall not see when good cometh; but shall inhabit the parched places in the wilderness, in a salt land and not inhabited.
7 Blessed is the man that trusteth in the LORD, and whose hope the LORD is.
8 For he shall be as a tree planted by the waters, and that spreadeth out her roots by the river, and shall not see when heat cometh, but her leaf shall be green; and shall not be careful in the year of drought, neither shall cease from yielding fruit.
9 The heart is deceitful above all things, and desperately wicked: who can know it?
Luke 1:37-For with God nothing shall be impossible.
1 Corinthians 2:5-That your faith should not stand in the wisdom of men but in the power of God.
Put your faith in God: Choosing Joy
Faith has a bi-product name Joy, which cannot be affected by circumstances. This Joy overflows when you are in God's presence and at the centre of God's perfect will for you.
Philippians 4:4 Rejoice in the Lord always: and again I say, Rejoice.
This Post: Put Your Faith in God
Posts you may be interested in:
What is True Love according to the Bible
How to Make Disciples for Christ
Free Will and God's Sovereignty
Prosperity Gospel Definition and Biblical Guidelines