How to be Holy according to the Bible? Practical steps to live a Holy Life as a Christian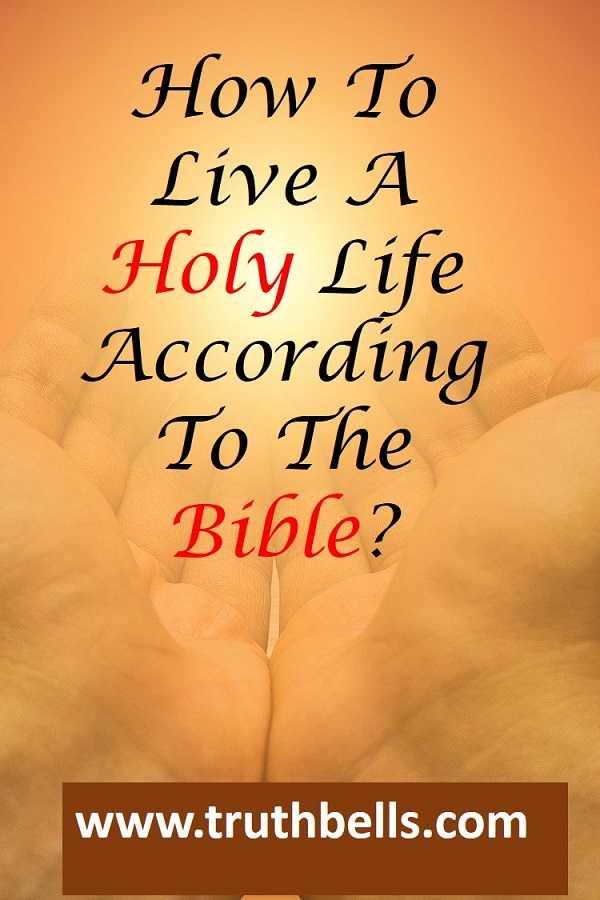 Pursuing purity in everything is essential for a closer walk with God.
1 Peter 1:16
"Be ye holy; for I am holy KJV."
Salvation is a gift, and we are saved and justified by God's Grace alone, through Faith alone, in Christ alone. That doesn't make grace cheap. The payment for forgiveness of our sins and our redemption cost the precious, holy blood of God's only begotten son Jesus Christ.
The false belief that Eternal Salvation can be earned by following a set of rules is unbiblical, and this is what kept many Jews who lived during Jesus' days from receiving the knowledge of Truth.
We are made saints by being washed in the blood of Jesus Christ and not by any good works of our own. We are made righteous only by faith in God, not by works.
However, God calls us to holiness. We are asked to imitate Christ and strive for perfection, though we will not be perfectly sinless as long as we are in the flesh on earth.
We must be the salt and light of the earth, illuminating unbelievers to Christ.
If you read through the Old Testament events, you will see people of God disobeying God over and over again and God chastening them and bringing them back to Him, out of His loving kindness. This is the character of God. He is Holy and hates Sin.
So, how to be holy? Here are a few ways to live a Pure life for Christ.
To be Holy people, we must consume God's Word
The Word of God is so powerful and acts as a sword against the Devil. Scripture is God-breathed and has the power of God in it. Satan cannot withstand that Power.
When Jesus was tempted, what was His weapon to chase the Devil away? Scriptures.
Memorizing scriptures is a great way to fill your heart and mind with Jesus. You will see that when you keep memorizing and meditating on God's Word every day, you will have no room for wrong thoughts.
If you feed yourself with God's Word, the devil cannot feed you with his lies. It was when Eve disregarded God's Word that the devil deceived her.
Hebrews 4:12 - For the word of God [is] quick, and powerful, and sharper than any two-edged sword, piercing even to the dividing asunder of soul and spirit, and of the joints and marrow, and [is] a discerner of the thoughts and intents of the heart.

2 Timothy 3:16 - All scripture [is] given by inspiration of God, and [is] profitable for doctrine, for reproof, for correction, for instruction in righteousness:

Colossians 3:16 - Let the word of Christ dwell in you richly in all wisdom; teaching and admonishing one another in psalms and hymns and spiritual songs, singing with grace in your hearts to the Lord.

Matthew 24:35 - Heaven and earth shall pass away, but my words shall not pass away.

John 1:1-2 - In the beginning was the Word, and the Word was with God, and the Word was God.

Psalms 119:105 - Thy word [is] a lamp unto my feet, and a light unto my path.

John 6:63 - It is the spirit that quickeneth; the flesh profiteth nothing: the words that I speak unto you, [they] are spirit, and [they] are life.

John 17:17 - Sanctify them through thy truth: thy word is truth.
To be Holy, we must talk to God often
Speak to God about everything and have a close relationship with Him.
As you move closer and closer to God, the devil will move farther and farther from you.
We cannot do anything good by our own power. We need God's power to live, to move, to work, to love and for everything. Humble yourself to seek His help every day, without fail.
Matthew 26:41 - Watch and pray, that ye enter not into temptation: the spirit indeed [is] willing, but the flesh [is] weak.

Ephesians 6:18 - Praying always with all prayer and supplication in the Spirit, and watching thereunto with all perseverance and supplication for all saints;

Luke 18:1 - And he spake a parable unto them [to this end], that men ought always to pray, and not to faint;

1 Thessalonians 5:17 - Pray without ceasing.
To be Holy, we must be Doers and not just Hearers
We can hear tons of sermons on how to be holy as a Christian and still live like the world, if we do not act in faith, driven by the love of Jesus.
We are called to Walk the Christian Life and be the Salt that doesn't lose its favour.
We are created for good works that Glorify God. As Children of Light, we are to live a Set Apart life in this dark world.
When God calls you to share the Gospel with someone, start a ministry, take some risks, change your job, start a new business etc. by Faith in Him, don't delay. Get up and Go.
2 Thessalonians 3:13 - But ye, brethren, be not weary in well-doing.

Galatians 6:9 - And let us not be weary in well doing: for in due season we shall reap if we faint not.

Ephesians 2:10 - For we are his workmanship, created in Christ Jesus unto good works, which God hath before ordained that we should walk in them.

Matthew 5:16- Let your light so shine before men, that they may see your good works, and glorify your Father which is in heaven.
Starting today, let us do our best to be holy as He is holy, even as we show the world that we belong to a Holy and perfect God.
This Post: How to be Holy?
Posts you may be interested in:
What is True Love according to the Bible?
How to Make Disciples for Christ?
Free Will and God's Sovereignty
Prosperity Gospel Definition and Biblical Guidelines