The Prayers of Jesus Christ
During His earthly journey, Jesus prayed often and left us a model to follow.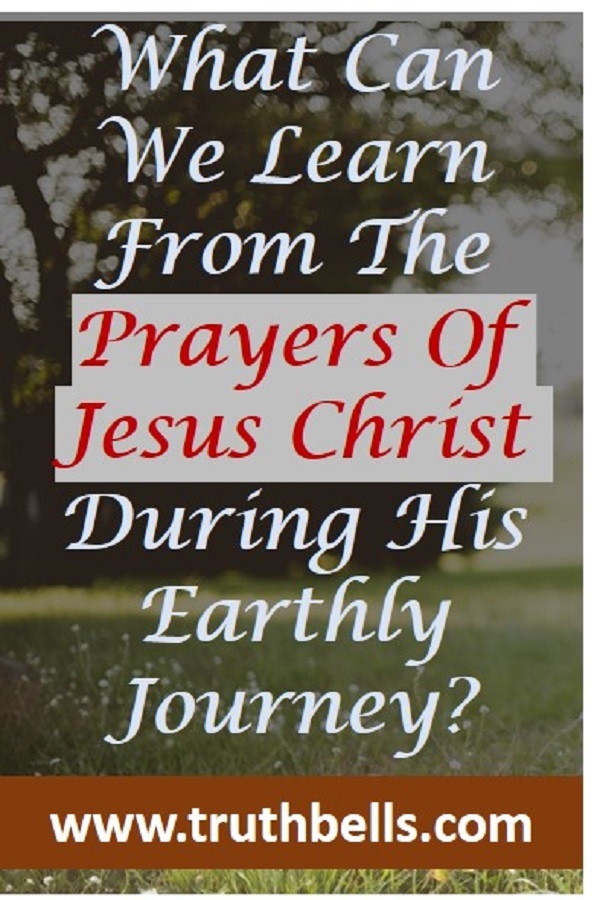 The Prayers of Jesus Christ: Jesus prayed early in the morning
We must spend undistracted quiet time with the Lord every day.

The best use of your morning time is to start your day conversing with God, seeking His help, grace, providence, protection, strength, and wisdom to face the tasks ahead.

Starting the day with God is a privilege and pleasure.
Mark 1:35 In the early morning, while it was still dark, Jesus got up, left the house, and went away to a secluded place, and was praying there.
The Prayers of Jesus Christ: Before performing miracles
We can't do anything fruitful apart from God. Jesus is our power source. We need Him, His presence, His hands, and His grace in everything.

Our human flesh desires to accomplish things by its own strength because our sinful nature is more inclined to self-glory and self-appreciation, rather than God's glory.

While we must strive to perform good works, we should resist the urge to rush into action without praying about it.

We must pray and diligently seek God's help and guidance, before making crucial decisions and plans.
Matthew 14:19 Ordering the people to sit down on the grass, He took the five loaves and the two fish, and looking up toward heaven, He blessed the food, and breaking the loaves He gave them to the disciples, and the disciples gave them to the crowds,
The Prayers of Jesus Christ: When He was baptized with water
Jesus humbled Himself and received water baptism. He prayed at that time and heaven was not only opened but was also pleased.
Luke 3:21 Now when all the people were baptized, Jesus was also baptized, and while He was praying, heaven was opened,
The Prayers of Jesus Christ: Before choosing His disciples
Sometimes, we will have to spend many hours of prayer, especially before making crucial decisions. Before choosing His disciples, Jesus prayed the whole night.
Luke 6:12 It was at this time that He went off to the mountain to pray, and He spent the whole night in prayer to God.
The Prayers of Jesus Christ: In distress before Crucifixion
We are human and we all go through terrific times. At these times, it is okay to talk to God about the same thing again and again. God will provide help and comfort. It is good to express how we feel to God. Jesus prayed and surrendered to God's will, before the crucifixion.
Matthew 26:39 And He went a little beyond them, and fell on His face and prayed, saying, "My Father, if it is possible, let this cup pass from Me; yet not as I will, but as You will."
Matthew 26:42 He went away again a second time and prayed, saying, "My Father, if this cannot pass away unless I drink it, Your will be done."
Matthew 26:44 And He left them again, and went away and prayed a third time, saying the same thing once more.
Hebrews 5:7 In the days of His flesh, He offered up both prayers and supplications with loud crying and tears to the One able to save Him from death, and He was heard because of His piety.
The Prayers of Jesus Christ: Amid the crowd and applause
You need a break from the world and the noisy crowd at regular intervals so that we don't get distracted or diverted from our purposes. Don't keep on working without ceasing and neglect prayer. If you neglect prayer, you will start depending on your flesh rather than the Spirit of God.
Matthew 14:23 After He had sent the crowds away, He went up on the mountain by Himself to pray; and when it was evening, He was there alone.
The Prayers of Jesus Christ: Before leaving the world
Jesus prayed for His loved ones, before leaving the earth. Who are His loved ones? It is those who belong to the household of faith. It is you and me. We must also pray for our fellow brothers and sisters in Christ.
John 17:1-25 Jesus spoke these things; and lifting up His eyes to heaven, He said, "Father, the hour has come; glorify Your Son, that the Son may glorify You, even as You gave Him authority over all flesh, that to all whom You have given Him, He may give eternal life. "This is eternal life, that they may know You, the only true God, and Jesus Christ whom You have sent.
John 17:9 I ask on their behalf; I do not ask on behalf of the world, but of those whom You have given Me; for they are Yours;
John 17:20 "I do not ask on behalf of these alone, but for those also who believe in Me through their word;
The Prayers of Jesus Christ: For strengthening Peter's Faith
Jesus is our advocate. Satan is our accuser. Jesus prayed for Peter's faith when He stumbled. Pray for those who are weak in faith, especially the new believers and those believers who have gone far from God.
Luke 22:32 but I have prayed for you, that your faith may not fail; and you, when once you have turned again, strengthen your brothers."
Other posts you may be interested in:
How to Make Disciples for Christ?
Walking in Obedience to God's Word
Spiritual Transformation Process
The Christian Life
Glorify God in all you do
Creative Ways to Share the Gospel
God in the Workplace
Purpose of Suffering
Christian Priorities
God's Will For Us
God's Purpose For Us
The Lordship of Jesus Christ
Put Your Faith In God, Not Things or Others
Wilderness Experience in the Bible
Legalism in the Church