Kindness and Goodness: Fruits of the Spirit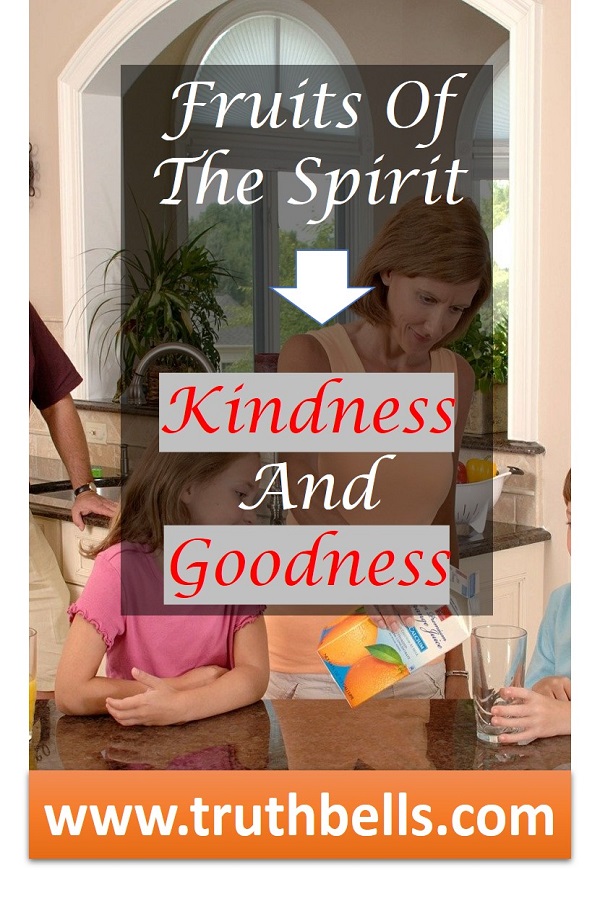 Sometimes, we become so focused on ourselves and our plans, that we lose sight of the opportunities that God places on our way for showing kindness to someone.
Kindness and goodness shows your identity:
Kindness is the very character of God and His children. God is kind to mankind; otherwise, the world would have perished by now. We are adopted into God's family because of God's mercies and kindness, not because of our good works.
We must exhibit the fruits of the Spirit such as kindness and mercy to both God's children and the people of the world, that they may see Christ in us.
The Bible says that God is kind even to the unthankful and the evil people. God gives rain and sunshine to everyone, including the unsaved.
Luke 6:35 - But love ye your enemies, and do good, and lend, hoping for nothing again; and your reward shall be great, and ye shall be the children of the Highest: for he is kind unto the unthankful and [to] the evil.
Colossians 3:12 - Put on therefore, as the elect of God, holy and beloved, bowels of mercies, kindness, humbleness of mind, meekness, longsuffering;
Kindness is good to your own soul:
Acts of kindness refreshes your own soul. Have you seen people who always yell at people who are under privileged for no reason? They are not only troubling others, but also their own soul. But as Christians, we must produce the fruits of the Spirit including kindness.
Little acts of kindness can help us throw some light of Christ on the fallen world.
Proverbs 11:17 - The merciful man doeth good to his own soul: but [he that is] cruel troubleth his own flesh.
Be kind because God has forgiven the unforgivable you:
Do we deserve God's forgiveness? No. Did we pay for our sins? No.
Did Jesus deserve to take our burdens and die on the cross? No.
Because God has forgiven the unforgivable you, you can now forgive those who have sinned against you.
Ephesians 4:32 - And be ye kind one to another, tenderhearted, forgiving one another, even as God for Christ's sake hath forgiven you.
1 Peter 3:9 - Not rendering evil for evil, or railing for railing: but contrariwise blessing; knowing that ye are thereunto called, that ye should inherit a blessing.
The Law of Kindness in Tongue:
The Bible talks about keeping the words of your mouth on check. It is wisdom to speak kindly. Your words as a Christian should be kind.
We cannot preach the Gospel to our co-workers on Monday and speak harsh words to them on Tuesday for trivial matters. We must live the Gospel.

Proverbs 31:26 - She openeth her mouth with wisdom; and in her tongue [is] the law of kindness.
Being kind to the poor and needy:
Jesus said that helping poor and equivalent is equivalent to serving and lending God.
We may or may not receive rewards here on earth, but we will definitely receive our rewards in Heaven.
God is just and His words are true.

1 Corinthians 13:4-7 - Charity suffereth long, [and] is kind; charity envieth not; charity vaunteth not itself, is not puffed up,  ..

Proverbs 19:17 - He that hath pity upon the poor lendeth unto the LORD; and that which he hath given will he pay him again.

Galatians 6:10 - As we have therefore opportunity, let us do good unto all [men], especially unto them who are of the household of faith.

1 John 3:18 - My little children, let us not love in word, neither in tongue; but in deed and in truth.

Philippians 2:1-30- If [there be] therefore any consolation in Christ, if any comfort of love, if any fellowship of the Spirit, if any bowels and mercies,...
The people of the world are always selfish. They generally don't care about helping others and even if they do, they think that they can nullify their sins through such service or they expect that their so called gods would give them more money if they help the poor and needy. But, we who are called to be partakers of the Heavenly banquet must produce the Fruits of the Spirit such as kindness and goodness to make our Father in Heaven smile.  
This Post:
Kindness and Goodness - Fruits of the Spirit
Posts you may be interested in:
How to Live by Faith
How to be Holy
How to grow in God
The Christian Life
What is True Love according to the Bible
Glorify God in all you do
How to Make Disciples for Christ
God in the Workplace
Free Will and God's Sovereignty
Prosperity Gospel Definition and Biblical Guidelines
Modern Day Idols